Grand Canyon Photos
Jon Shemitz, May 2004
I turned 45 in December of 2003, and my brother will turn 45 in December of 2004. For our birthday present, we rafted down the Grand Canyon with our Dad.
I got a 28 mm lens just for the trip, and took 22 dozen pictures of the trip and of my last training hike. I had the 14 best scanned from negatives, and I've arranged them in this online slide show.
This slideshow comes in two versions that differ only in the size of the pictures. The normal format should look good on most screens. The large format needs a high-res screen and a maximized browser.
The background color is taken from this picture, as is the link color; the text color is from Redwall Cavern. Links change color and draw an underline when you move the mouse over them.
The 1500 x 1000 raw scans are available on request.
My Dad, Norman Shemitz
in the Grand Canyon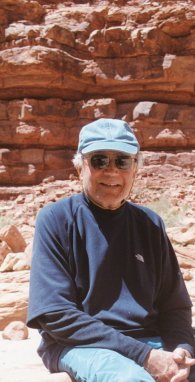 Copyright © 2004, Jon Shemitz